Our new premises are located in Kapsalos area, in Limassol.
We have been practicing since 2000 and have an extensive clientele, who we have assisted in developing a healthy lifestyle through a well-balanced diet.
Our clients are treated individually, depending on their nutritional preferences, their lifestyle, always taking into consideration any health issues.
With a proven track record in the field of nutrition and weight management, we have established a friendly, yet professional and reliable centre in Limassol, to provide effective solutions to any issues relevant to nutrition, regardless of age and gender.
Our services are addressed to those who aim at either weight loss/gain, or at tackling any other health issue related to their nutrition or personal well-being.
Our well-trained staff is always willing to cater to your needs.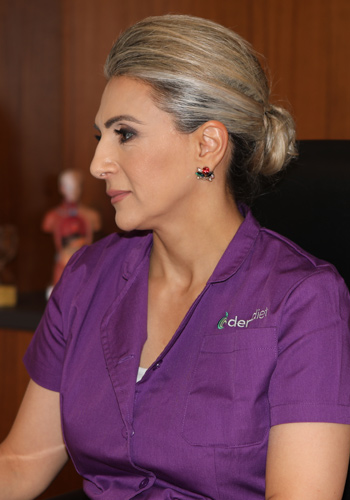 DENA HADJICOSTA KYRIACOU
Clinical Dietitian – Nutritionist B.Sc. (Hons), M.Sc., RD
Curriculum Vitae
Clinical Dietitian – Nutritionist, Dena Hadjicosta Kyriacou was born in Limassol. She completed her secondary education at Lanitio Lyceum with Honours and attended the University of Surrey in the UK where she pursued her studies in Nutrition and Dietetics (BSc Honours). Having obtained her undergraduate degree, she continued her course of studies in the field of Clinical Dietetics (MSc) at the end of which she was awarded the school prize for outstanding achievement. Finally, her academic success was complemented by a traineeship in State hospitals and private clinics. She is a registered member of HCPC.
Professional Experience
Dena has been working as a freelancer since 2000 and runs a private business from her Diet & Nutrition Centre in Limassol. She has attended several training conferences held in Cyprus and abroad and participated in lectures and debates. Dena writes articles for various newspapers and is invited to radio broadcast programmes. Αlso, she worked as nutritionist for several Football Teams and many athletes like tennis players.
She is a member of the Cyprus Dietetic & Nutrition Association, the Cyprus Registration Board for Food Scientists/ Technologists and the Cyprus Clinical Nutrition and Metabolism Society. Additionally, Dena supervises the practical training of students in the field of Dietetics at the University of Nicosia.